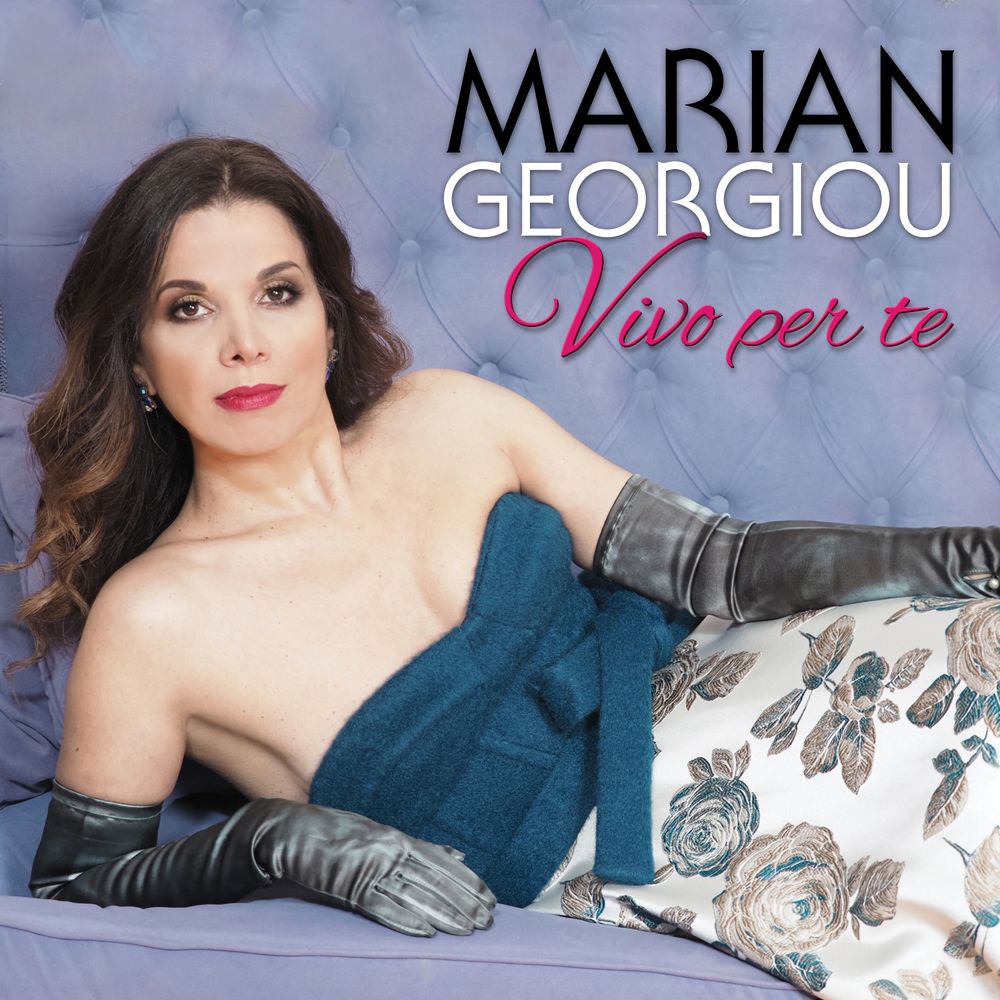 NEW INTERNATIONAL SINGLE
In Italian & Spanish
Italiano
Da venerdì 18 marzo in radio il nuovo singolo italiano di Marian Georgiou "Vivo per te" (Maqueta Records/Artist First) disponibile in digitale.
L'affascinante artista greco-cipriota, che pochi anni fa raggiunse i vertici delle classifiche elleniche con una rivisitazione dance della canzone tradizionale "Ta Rialia" e poi con "November", versione inglese della hit portata al successo in Italia da Giusy Ferreri, si cimenta ora con un brano crossover, destinato al mercato internazionale, di cui ha curato l'orchestrazione il violinista Alfred Shtuni.
"Vivo per te" è una romantica ballad  firmata da Marco Marinangeli, già autore di successi per Andrea Bocelli, Il Volo, Josh Groban, Il Divo ed altri artisti internazionali. Marian Georgiou ha già nel suo repertorio collaborazioni con apprezzati autori italiani come Roberto Casalino, Pietro Cremonesi e Francesco Boccia. La versione in lingua spagnola della canzone, in uscita nelle prossime settimane, è stata curata dall'autore e produttore messicano Manuel Herrera Maldonado, vincitore nel 2002 di un Grammy Award.
«"Vivo per te" – racconta l'autore Marco Marinangeli –  è stata ispirata in un particolare momento della mia vita dal carattere dualistico dell'amore: tale da poter essere percepito così forte fino a considerare di vivere esclusivamente per la persona amata, ma anche così fragile per la consapevolezza di poter perdere quella stessa persona con estrema facilità per mille motivi diversi.»
Il video di "Vivo per te" diretto da Jim Georgosopoulos è stato girato nei giardini del Museo della Numismatica, nelle sale della fondazione "The Actor House" e sul palco principale del teatro dell'Associazione Filologia del Parnassos di Atene.
English
From Friday 18 March on Italian radios Marian Georgiou's new Italian single "Vivo per te" (Maqueta Records / Artist First) available digitally. The song has already stood out and is on the lists of the most popular Italian songs.
The fascinating Greek Cypriot artist, who a few years ago reached the top of the European charts with "November", the English version of the song that became a great success in Italy by Giusy Ferreri, is now experimenting with a crossover piece, intended for the international market, orchestrated by renowned violinist Alfred Shtuni.
"Vivo per te" is a romantic ballad signed by the internationally renowned Italian composer Marco Marinangeli, an already highly successful composer with Andrea Bocelli, Il Volo, Josh Groban, Il Divo, Placido Domingo, Miley Cyrus and other international artists. Marian Georgiou already has collaborations with leading Italian singers & composers such as Gigi D'Alessio, Raffaella Carrà, Roberto Casalino, Pietro Cremonesi and Francesco Boccia. The Spanish version of the song "Y viviré was edited by Mexican composer and producer Manuel Herrera Maldonado, winner of the 2002 Grammy Award.
 "Vivo per te "- says the composer Marco Marinangeli - I wrote it at a specific moment in my life, when I was inspired to talk about the dual character of love: the one you feel so strongly with all your being, to the point where you feel that you live only for someone else, for this person, however the relationship can become so fragile that you can lose that person very easily for a thousand different reasons ".
The video clip of "Vivo per te" was directed by Jim Georgosopoulos and the shooting took place in the garden of the Numismatic Museum of Athens, at the "Actor's House" Foundation and on the Main Stage of the theater of the Parnassos Philological Association. The photo was taken at the house of the great Greek woman, Melina Mercouri.